Trade/DIY
>
Hacksaw
>
Saw Blades
Hacksaw Blades – Cobalt – Carded
H355
Sutton Tools Heavy Duty Bi-Metal Cobalt Hacksaw Blades are shatterproof, with superior cutting power & flexibility. The Cobalt material give these blades exceptional life for tougher applications such as stainless steel.
18 TPI: For 6-25mm materials eg pipe, angle iron & steel bar.
24 TPI: For 3-6mm materials eg conduit, heavy sheet metal & tubing.
32 TPI: For <3mm materials eg thin sheet metal & metal trim.
All Sutton Tools hacksaw blades have 300mm hole centers to fit all standard size hacksaw frames.
Item #
TPI
Length l1 (mm)
RRP
(inc GST)
Info
H3550003
18 / 24 / 32
300
$16.50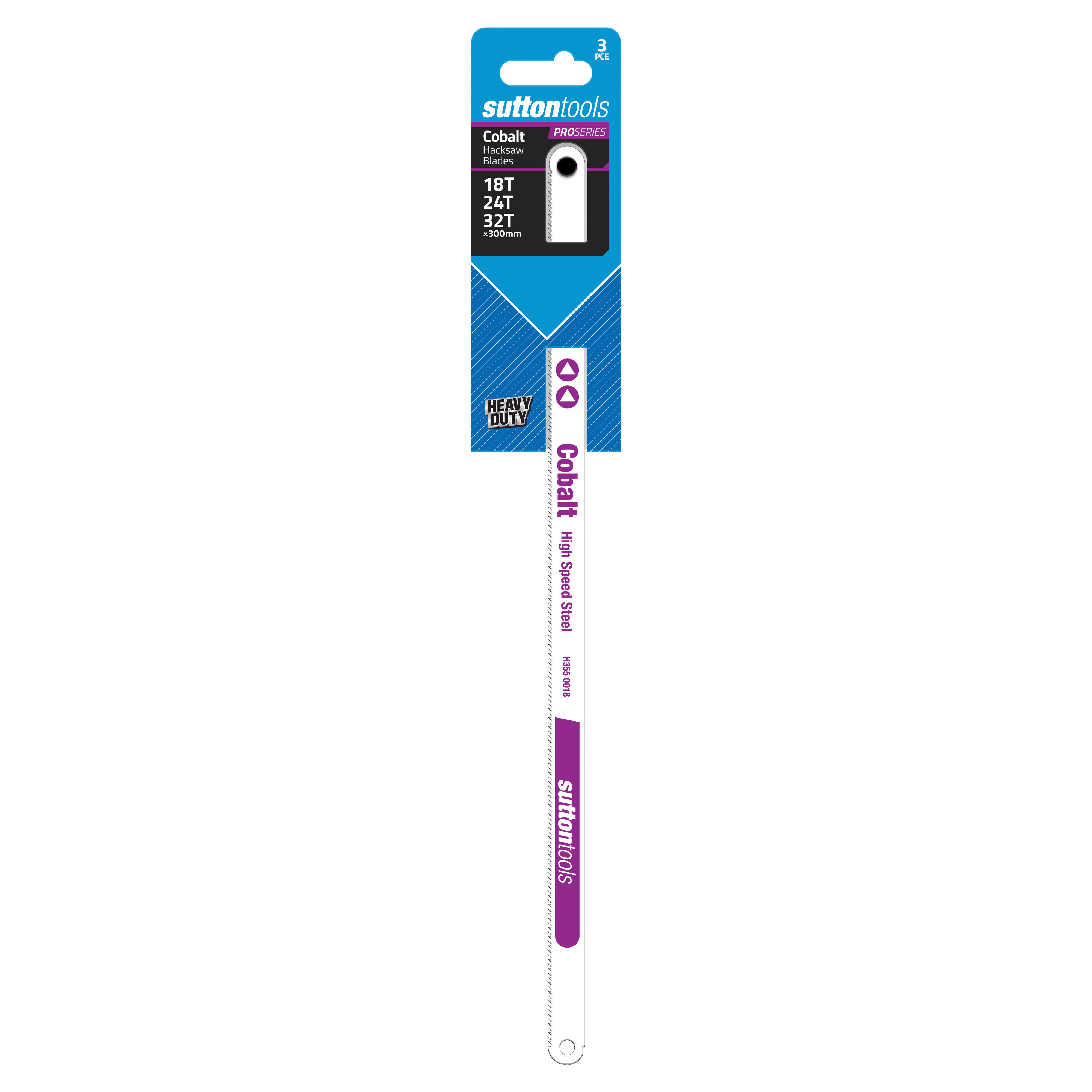 H3550003

Pack Qty: 3
Barcode: 9311963576688
Order Multiple: 1
H3550018

Pack Qty: 2
Barcode: 9311963576657
Order Multiple: 1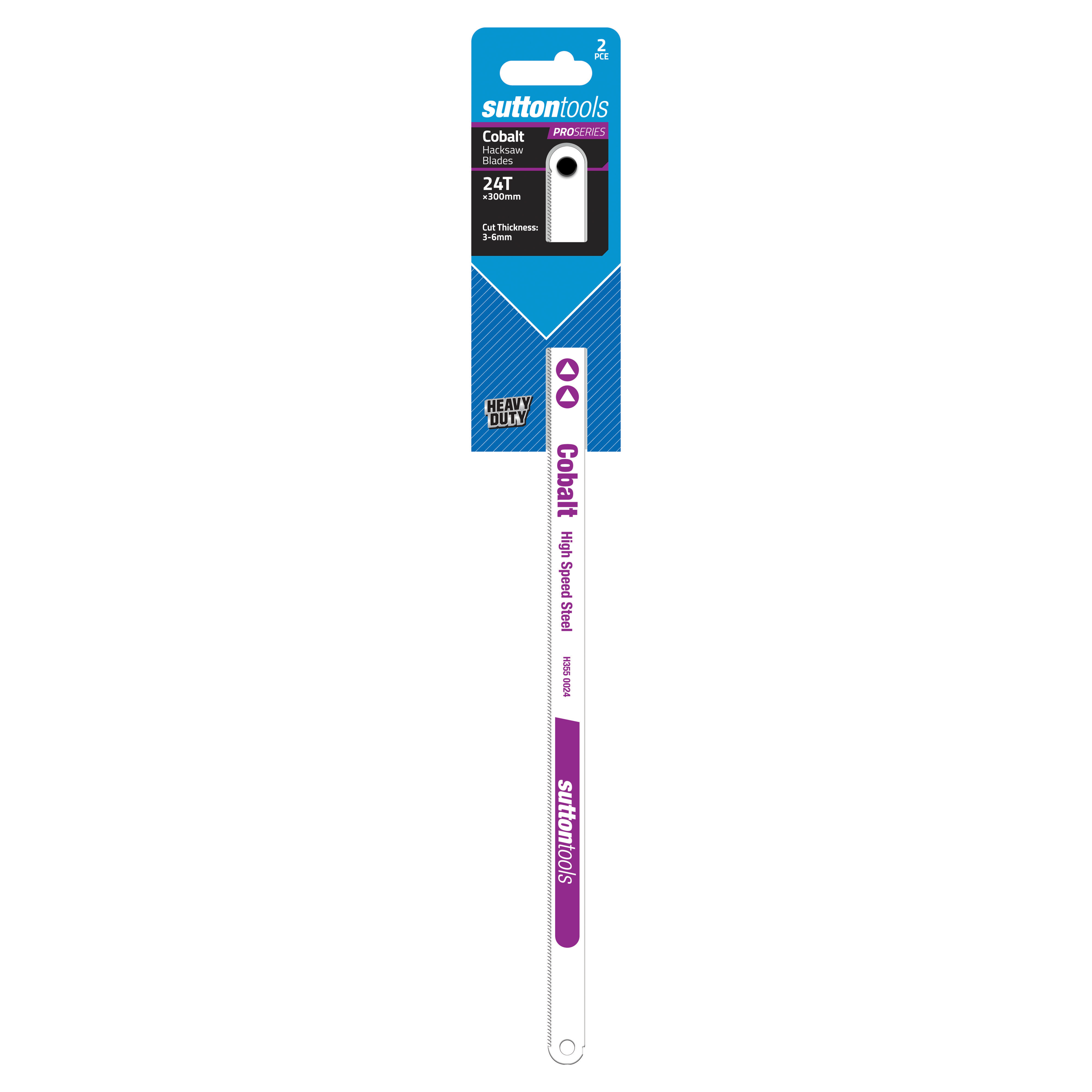 H3550024

Pack Qty: 2
Barcode: 9311963576664
Order Multiple: 1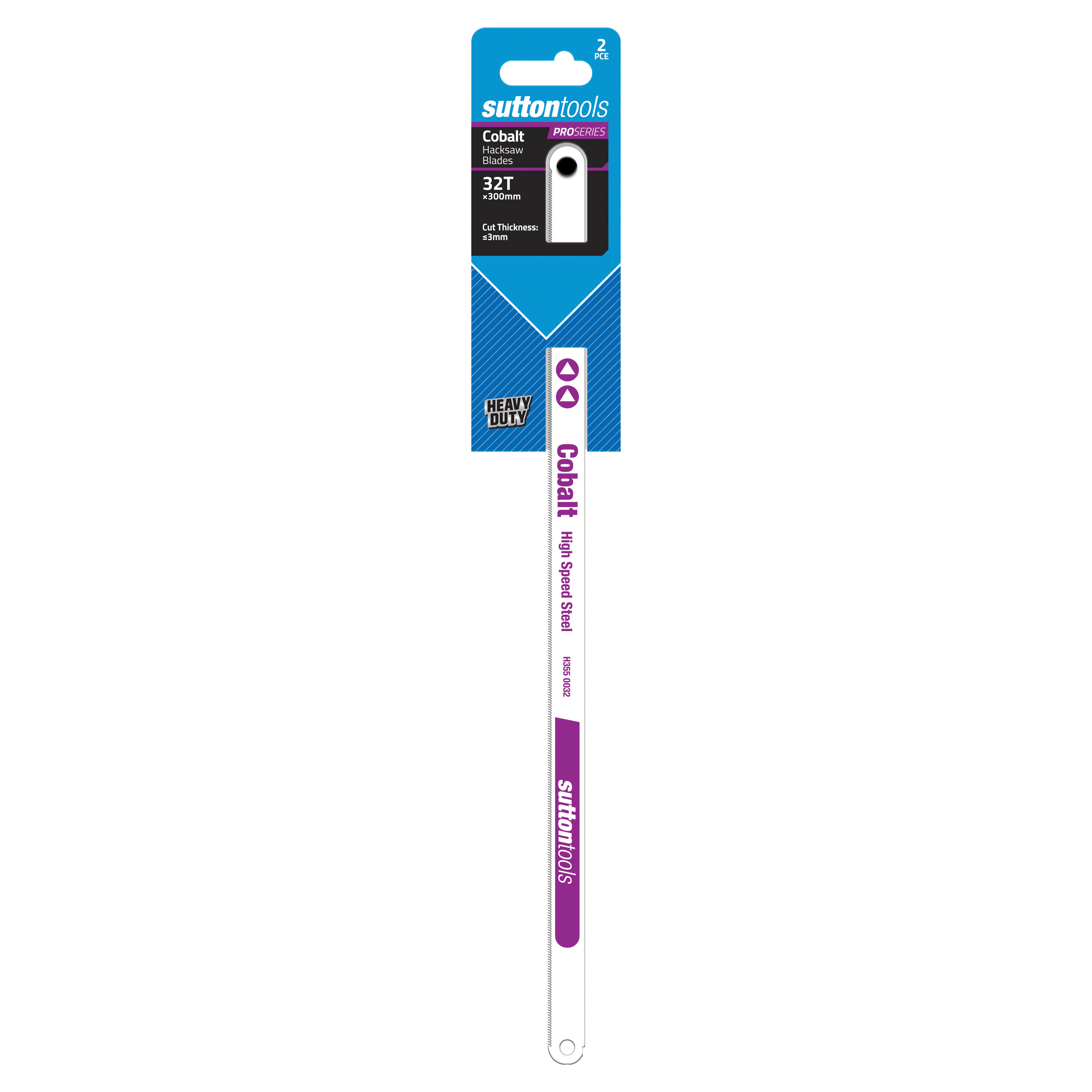 H3550032

Pack Qty: 2
Barcode: 9311963576671
Order Multiple: 1
Colour coded and clear markings for easy identification
300mm pin hole centers fit all standard hacksaw frames
Made from Bi-Metal Cobalt HSS. Premium quality for toughness and longer life
Wood
Metal
Specialty
Masonry

| | |
| --- | --- |
| Soft Wood | |
| Hard Wood | |
| Wood & Nails | |
| Chipboard | |
| Plywood | |
| MDF | |
| Green Wood | |
| Sandwich Construction | |
| Pallet | |
| Window Frame | |
| | |
| | |

| | |
| --- | --- |
| Steel | |
| Hard Steel | |
| Stainless Steel | |
| Aluminium | |
| Copper / Brass | |
| Cast Iron | |
| Sheet Metal | |
| Precious Metals | |
| Metal Pipe | |
| | |
| | |
| | |

| | |
| --- | --- |
| PVC Plastic | |
| Acrylic | |
| mineral rock wool foams (EPS, PUR), Polystyre | |
| Leather | |
| Rubber | |
| Fibreglass | |
| Carbon Fibre | |
| Glass | |
| Laminate | |
| | |
| | |
| | |

| | |
| --- | --- |
| Masonry | |
| Plasterboard | |
| Compressed Fibre Cement | |
| Cement Sheet | |
| Ceramic Tile | |
| Hebel | |
| Brick | |
| Concrete | |
| Reinforced Concrete | |
| Stone | |
| Granite | |
| Marble | |
KEY