Drills
>
Trade/DIY
>
Multi Purpose
Multi-Purpose Drills – Standard Length
D610
Sutton Tools Multi Purpose Drill bits are suitable for drilling in various materials such as timber, concrete, brick, stainless steel, cast iron, steel & glass. Especially suited for drilling multi laminated construction materials.
Hammer Action: For masonry materials only.*
Rotary Action: For all other materials.
*Drilling masonry materials prior to wood or steel will dull tip reducing the cutting performance.
Item #
Diameter d1 (mm)
Length l1 (mm)
Length l2 (mm)
Plug Colour
RRP
(inc GST)
Info
D6100300
3.00
60
20
Yellow
$12.95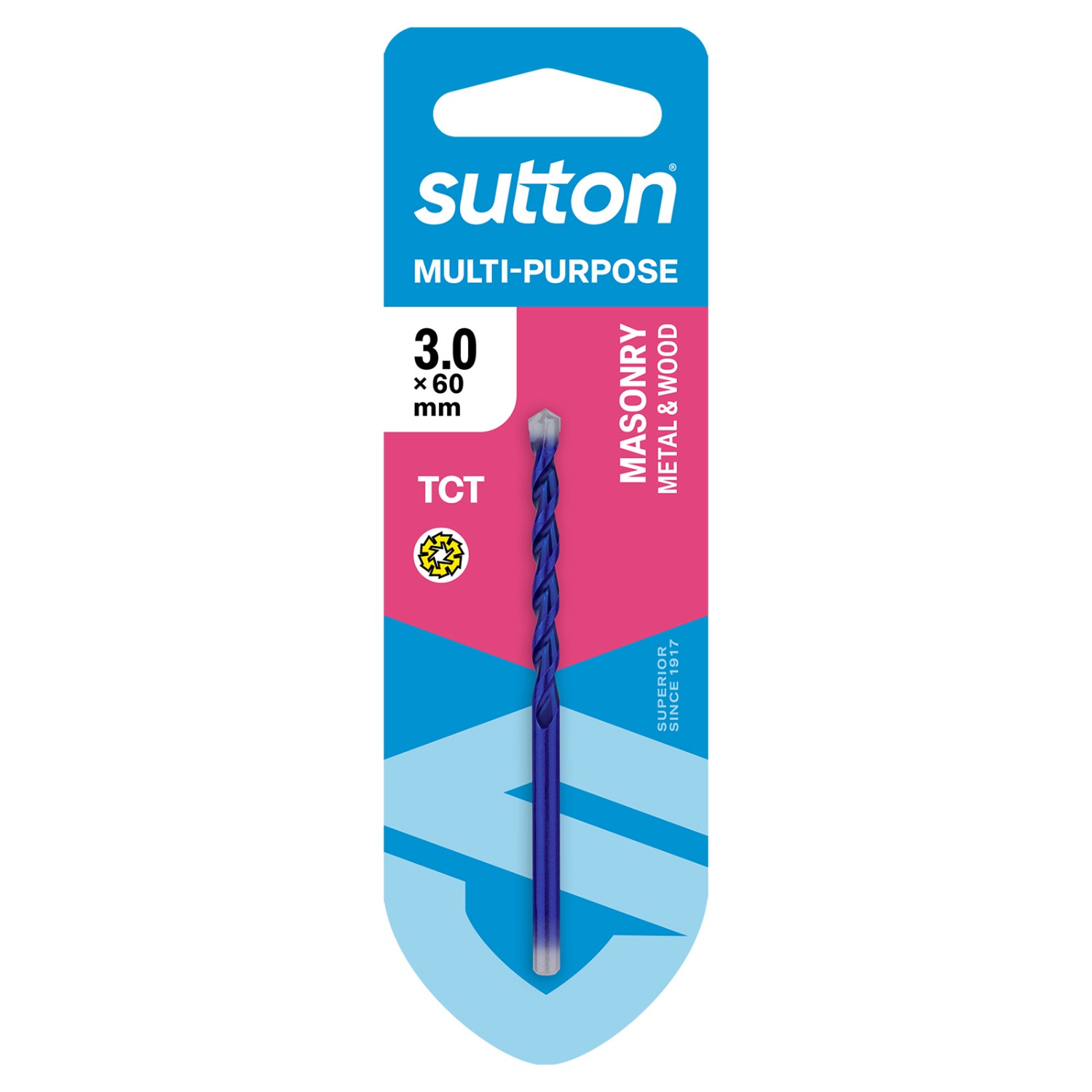 D6100300

Pack Qty: 1
Barcode: 9311963432502
Order Multiple: 1
D6100400

Pack Qty: 1
Barcode: 9311963432519
Order Multiple: 1
D6100500
5.00
85
45
White
$12.95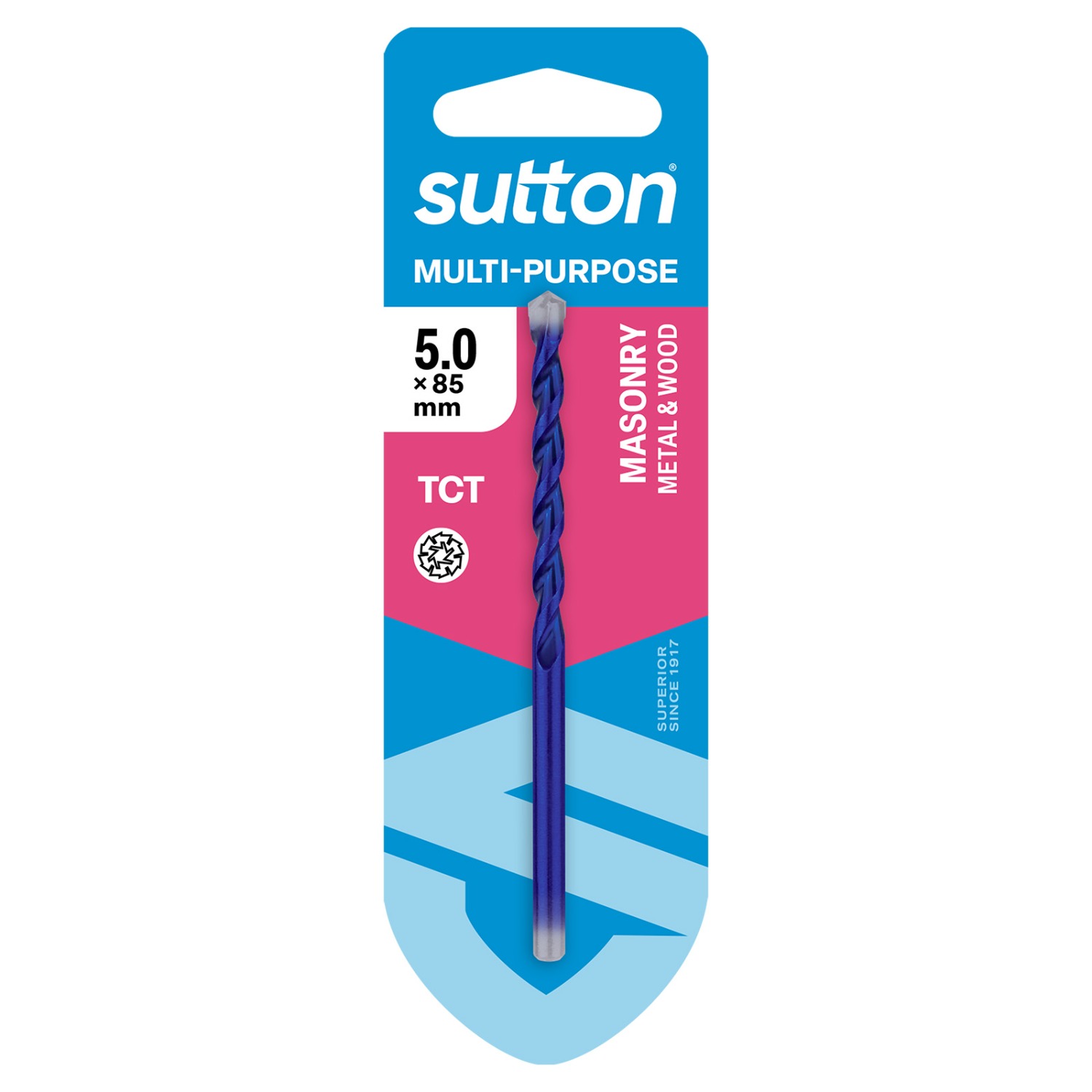 D6100500

Pack Qty: 1
Barcode: 9311963432526
Order Multiple: 1
D6100550
5.50
85
45
Red
$13.95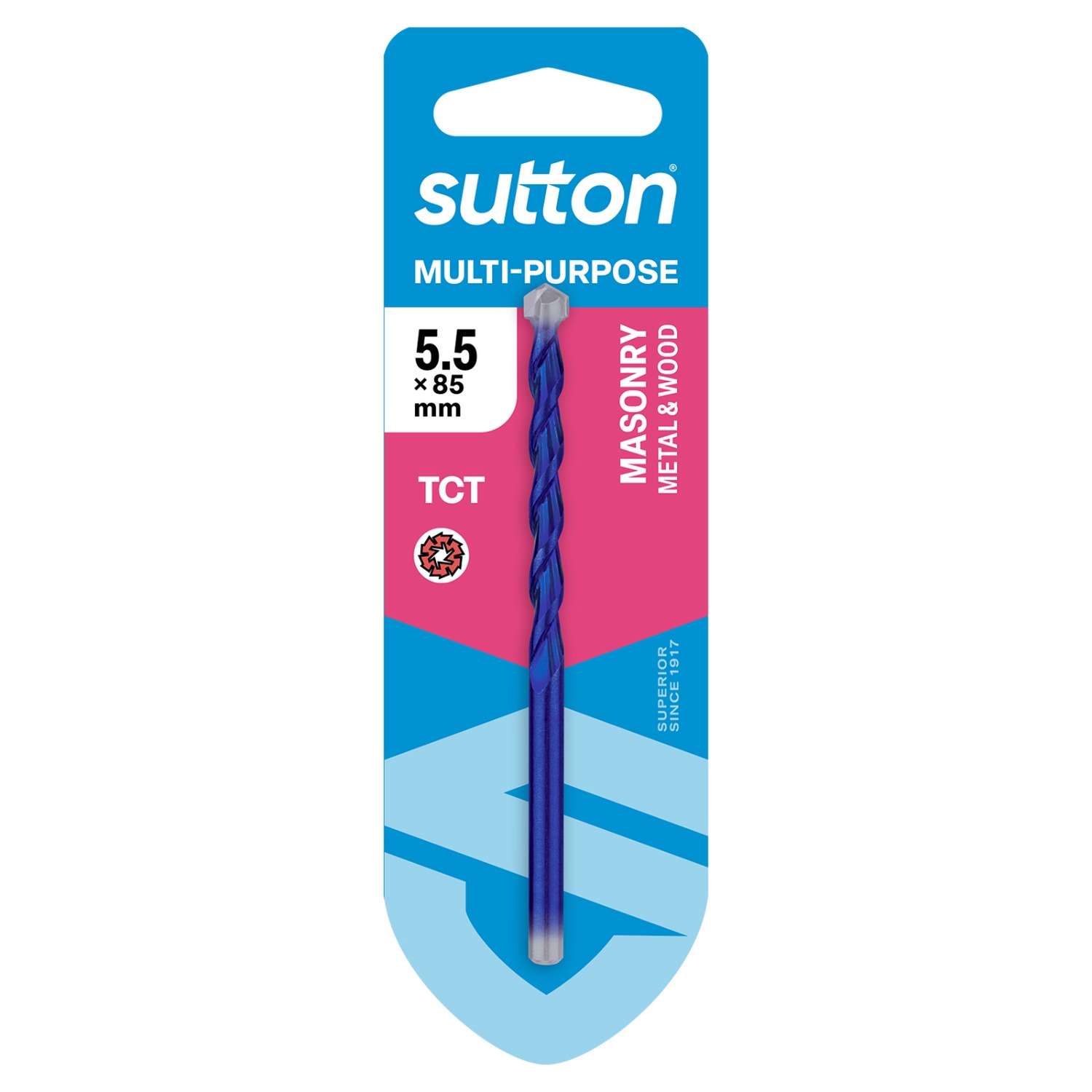 D6100550

Pack Qty: 1
Barcode: 9311963432533
Order Multiple: 1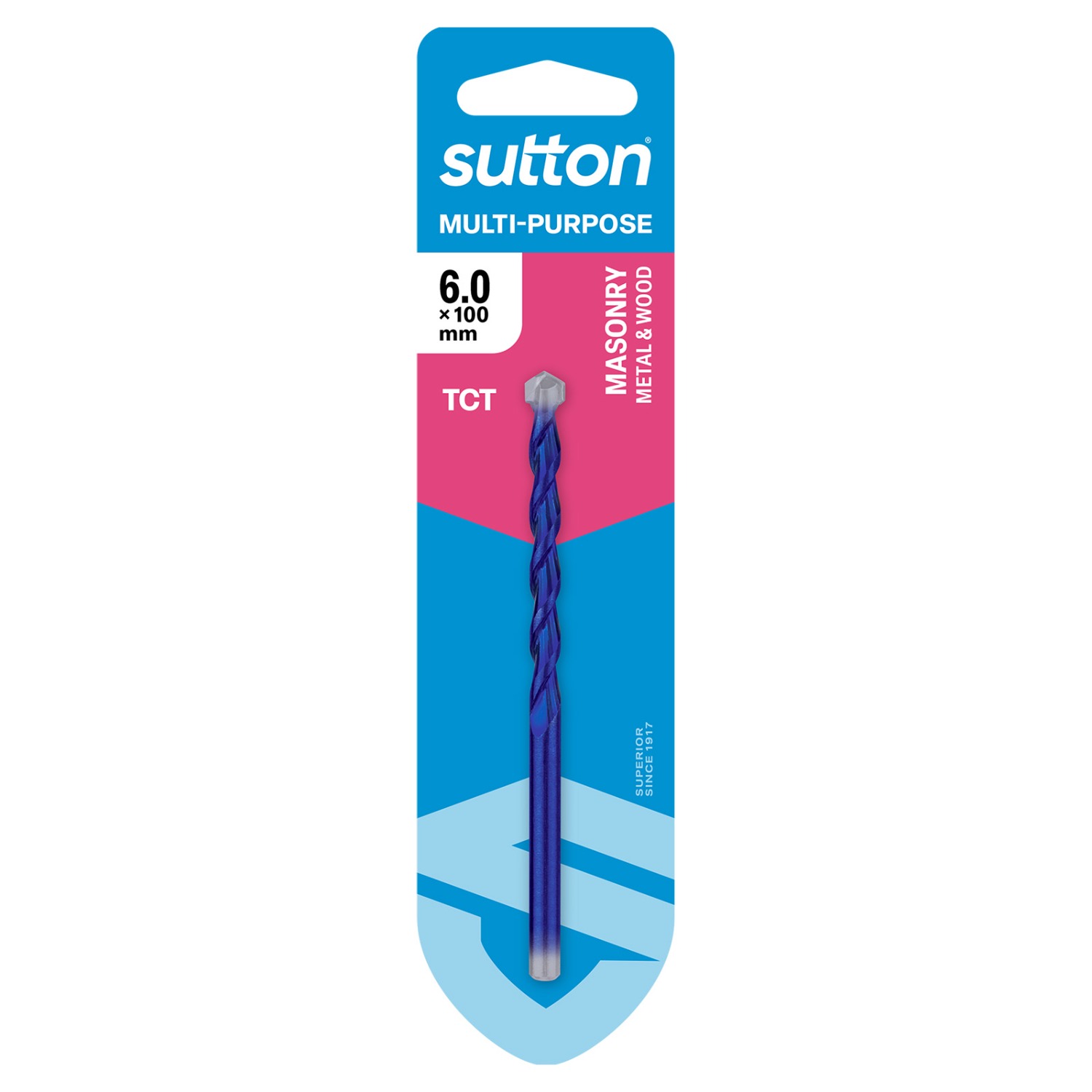 D6100600

Pack Qty: 1
Barcode: 9311963432540
Order Multiple: 1
D6100650
6.50
100
60
Green
$13.95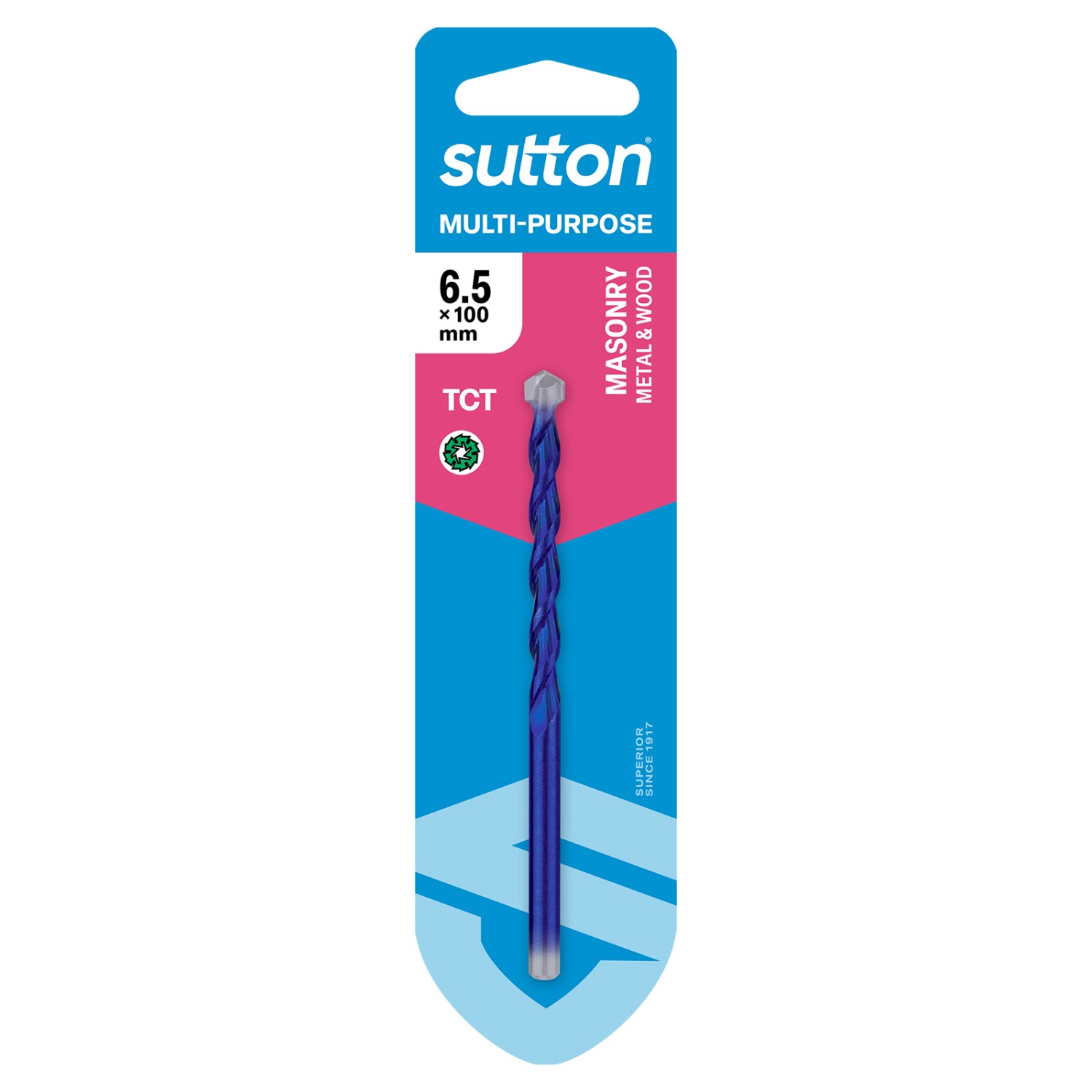 D6100650

Pack Qty: 1
Barcode: 9311963432557
Order Multiple: 1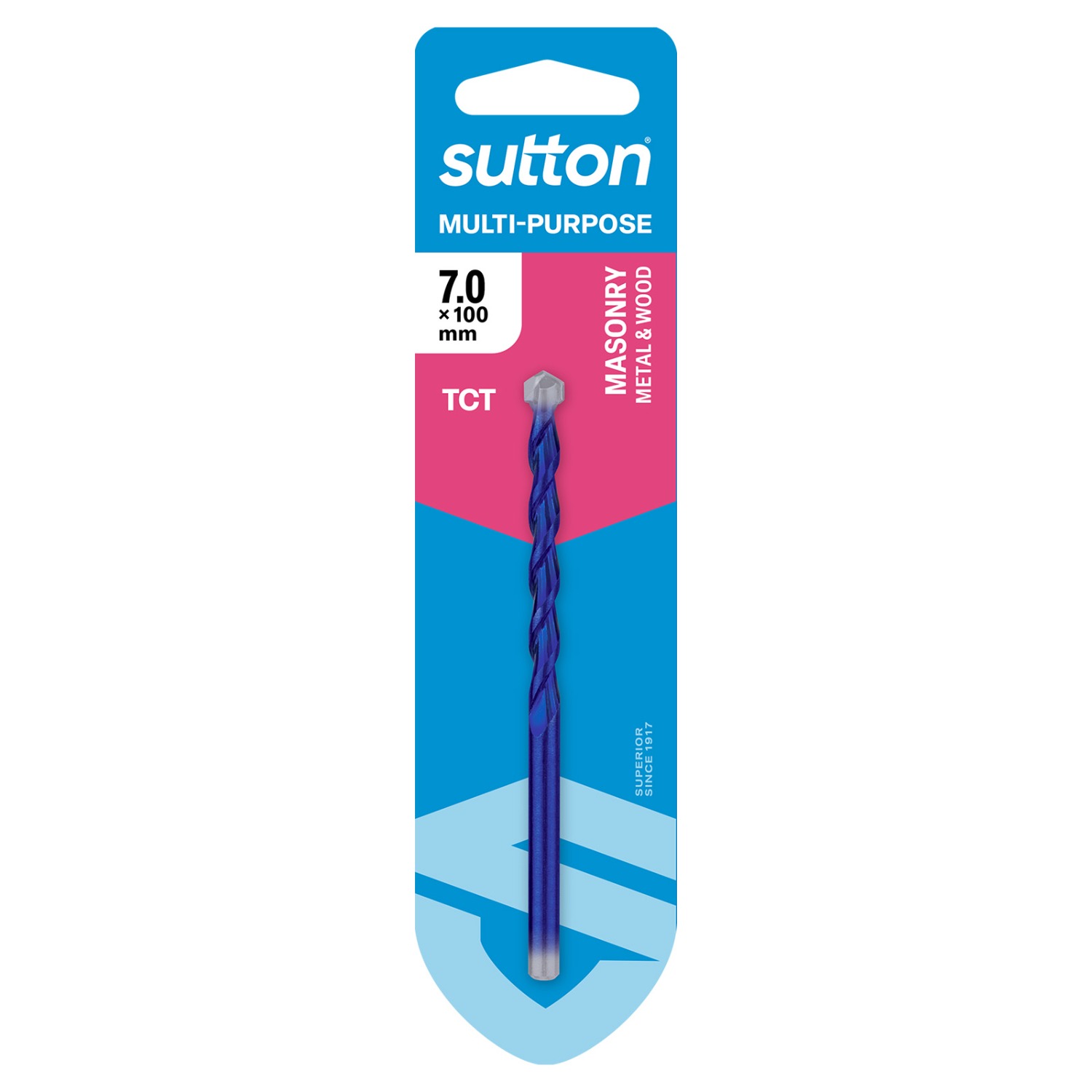 D6100700

Pack Qty: 1
Barcode: 9311963432564
Order Multiple: 1
D6100800
8.00
120
80
Blue
$18.50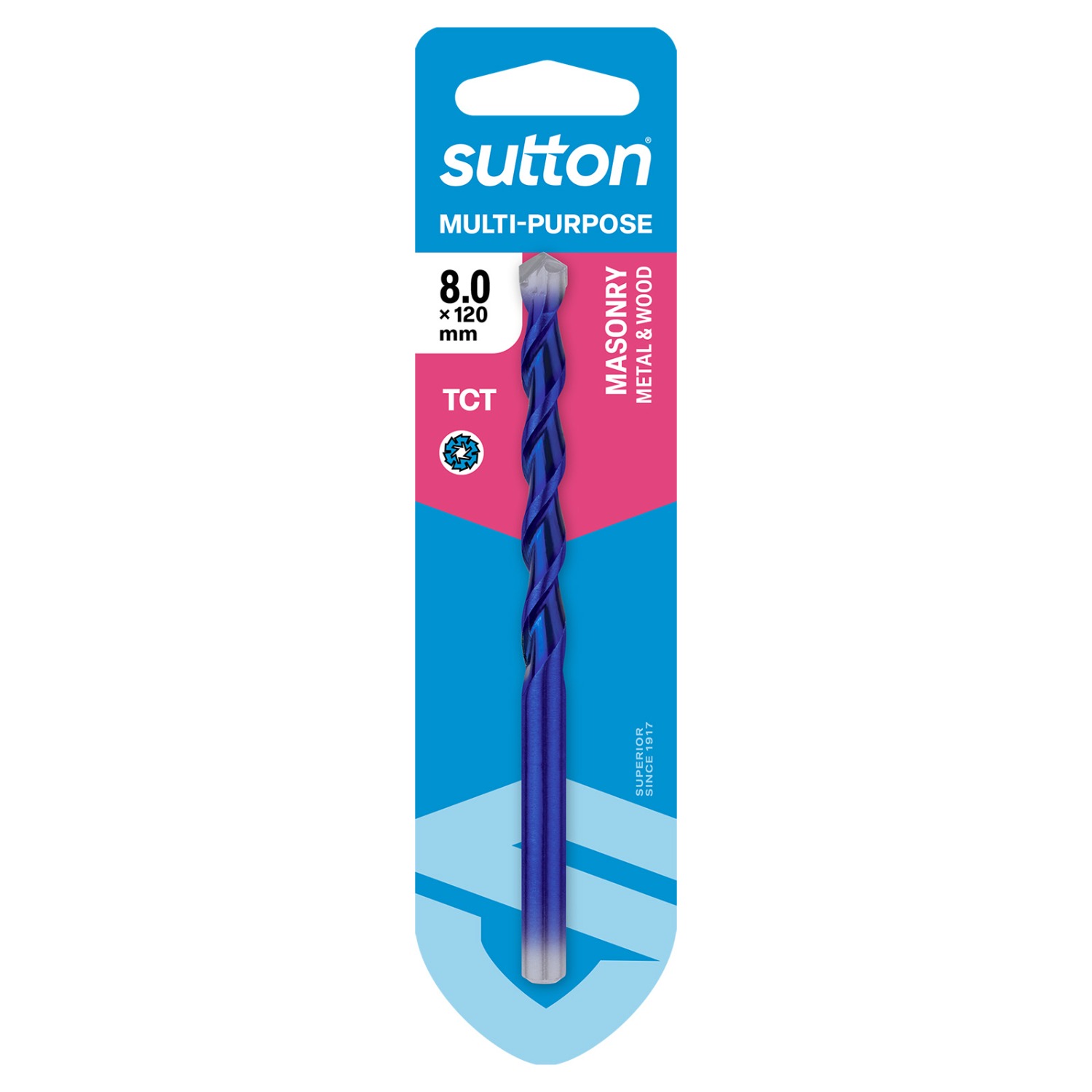 D6100800

Pack Qty: 1
Barcode: 9311963432571
Order Multiple: 1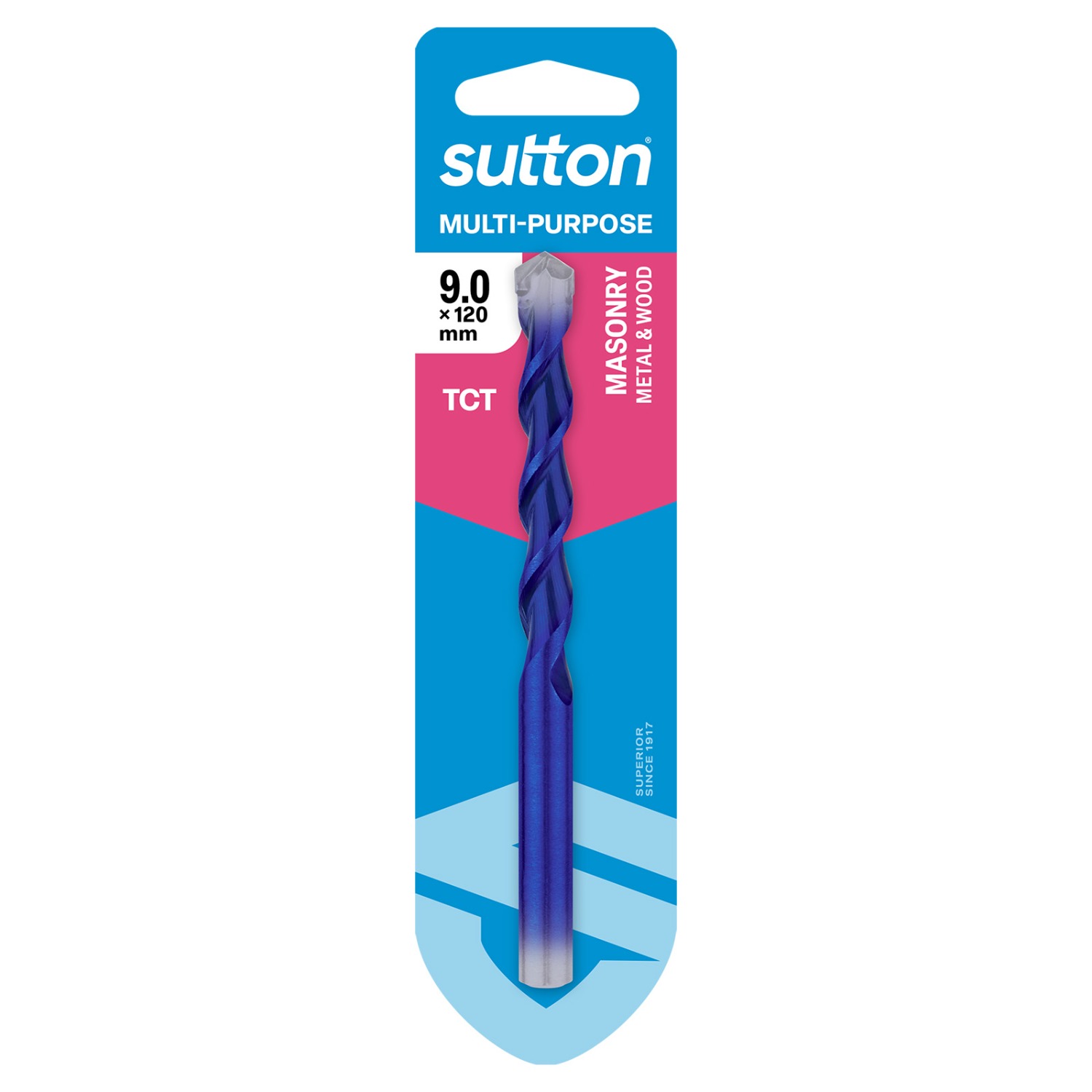 D6100900

Pack Qty: 1
Barcode: 9311963432588
Order Multiple: 1
D6101000
10.00
120
80
Orange
$21.95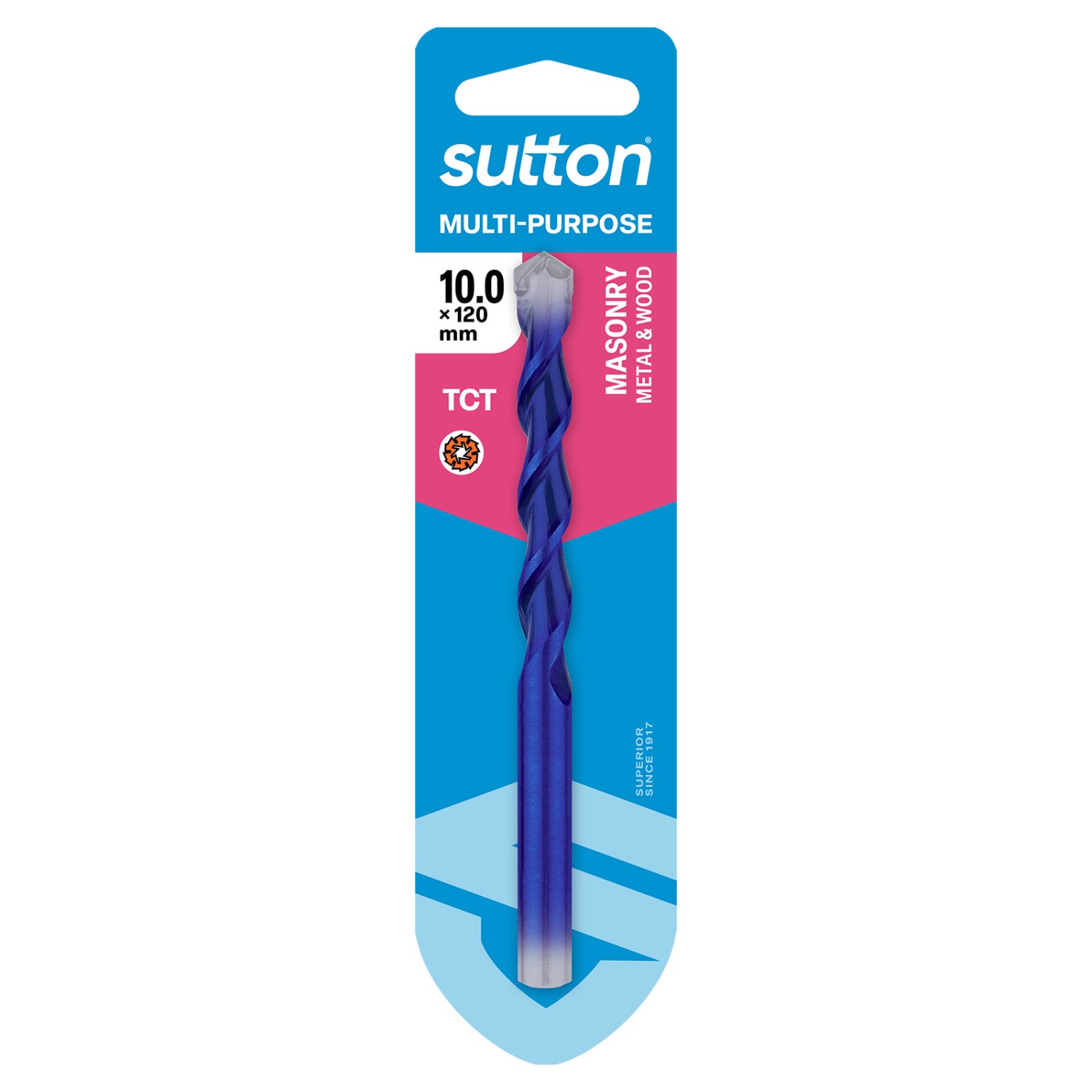 D6101000

Pack Qty: 1
Barcode: 9311963432595
Order Multiple: 1
D6101200
12.00
150
110
-
$26.95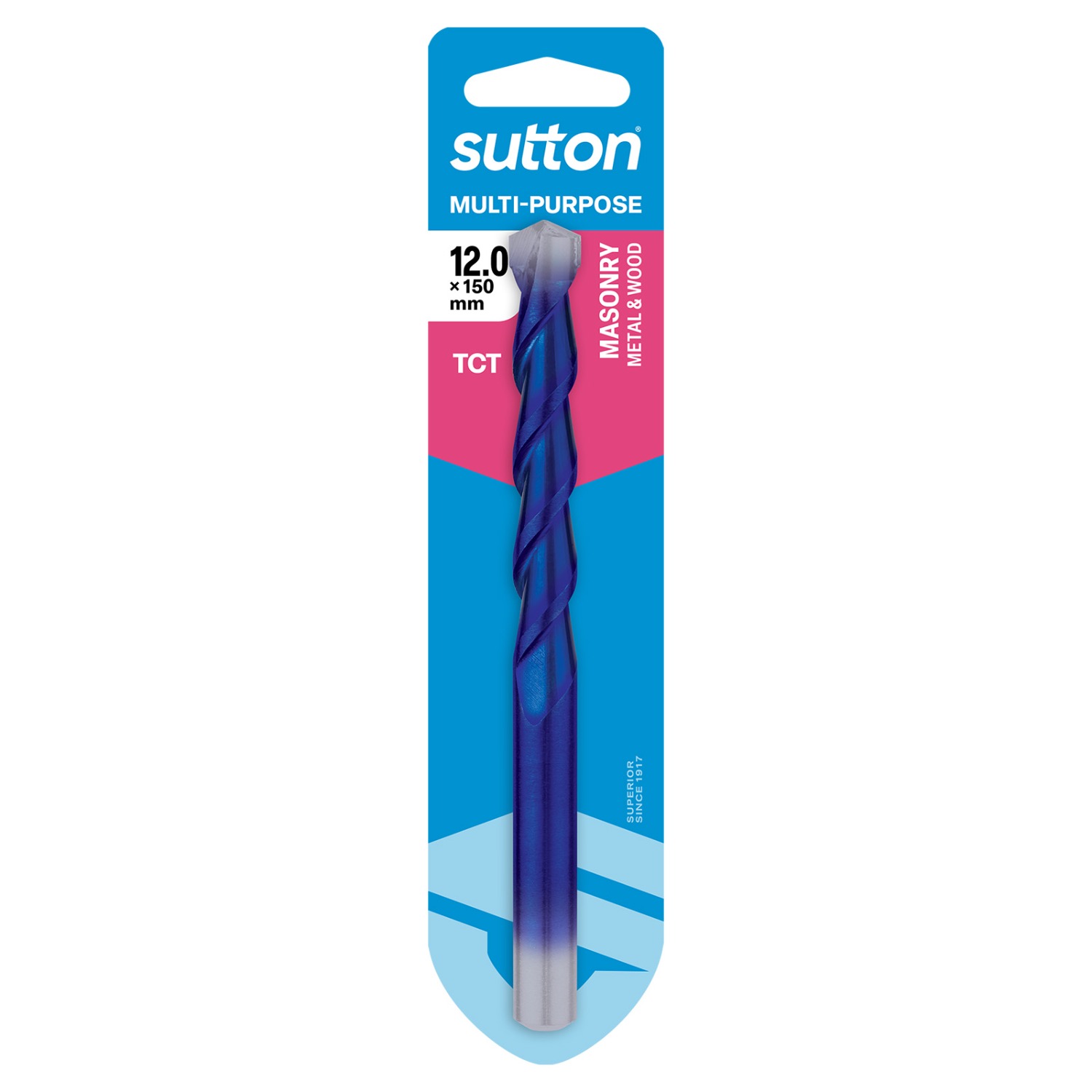 D6101200

Pack Qty: 1
Barcode: 9311963432649
Order Multiple: 1
D6101300
13.00
150
110
-
$31.50
D6101300

Pack Qty: 1
Barcode: 9311963432847
Order Multiple: 1
D6101400
14.00
150
110
-
$37.95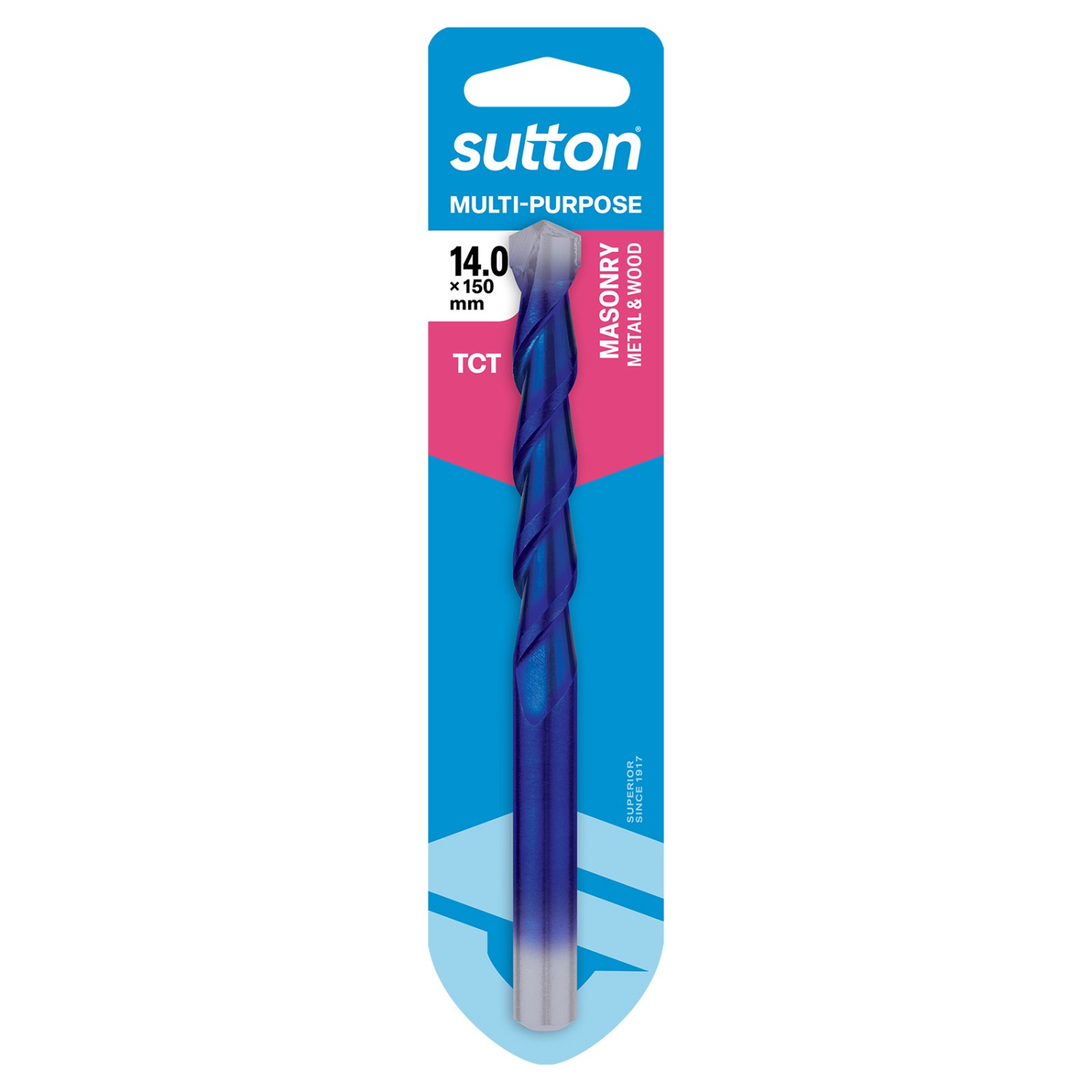 D6101400

Pack Qty: 1
Barcode: 9311963432656
Order Multiple: 1
D6101500
15.00
150
110
-
$44.95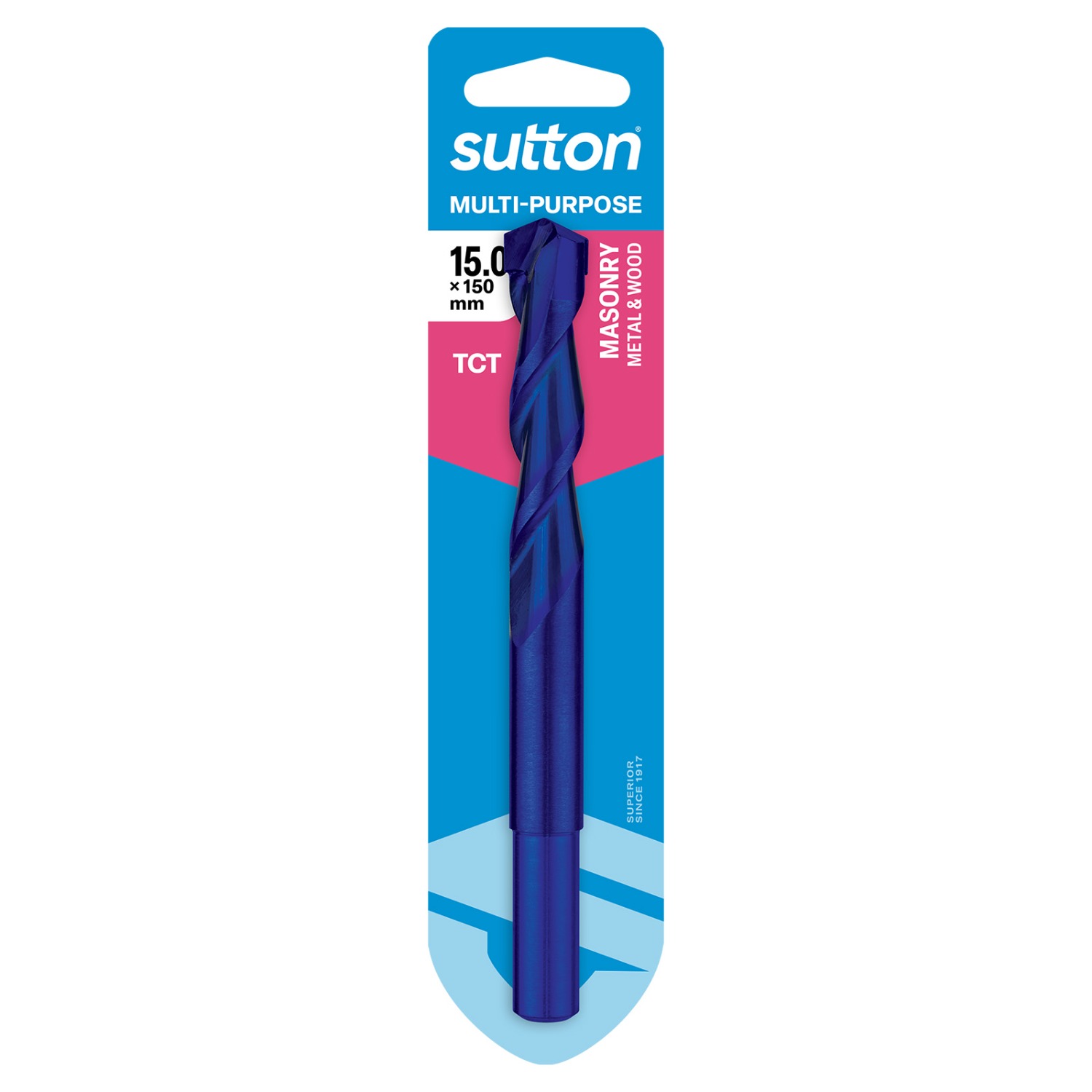 D6101500

Pack Qty: 1
Barcode: 9311963432854
Order Multiple: 1
D6101600
16.00
150
110
Black
$46.95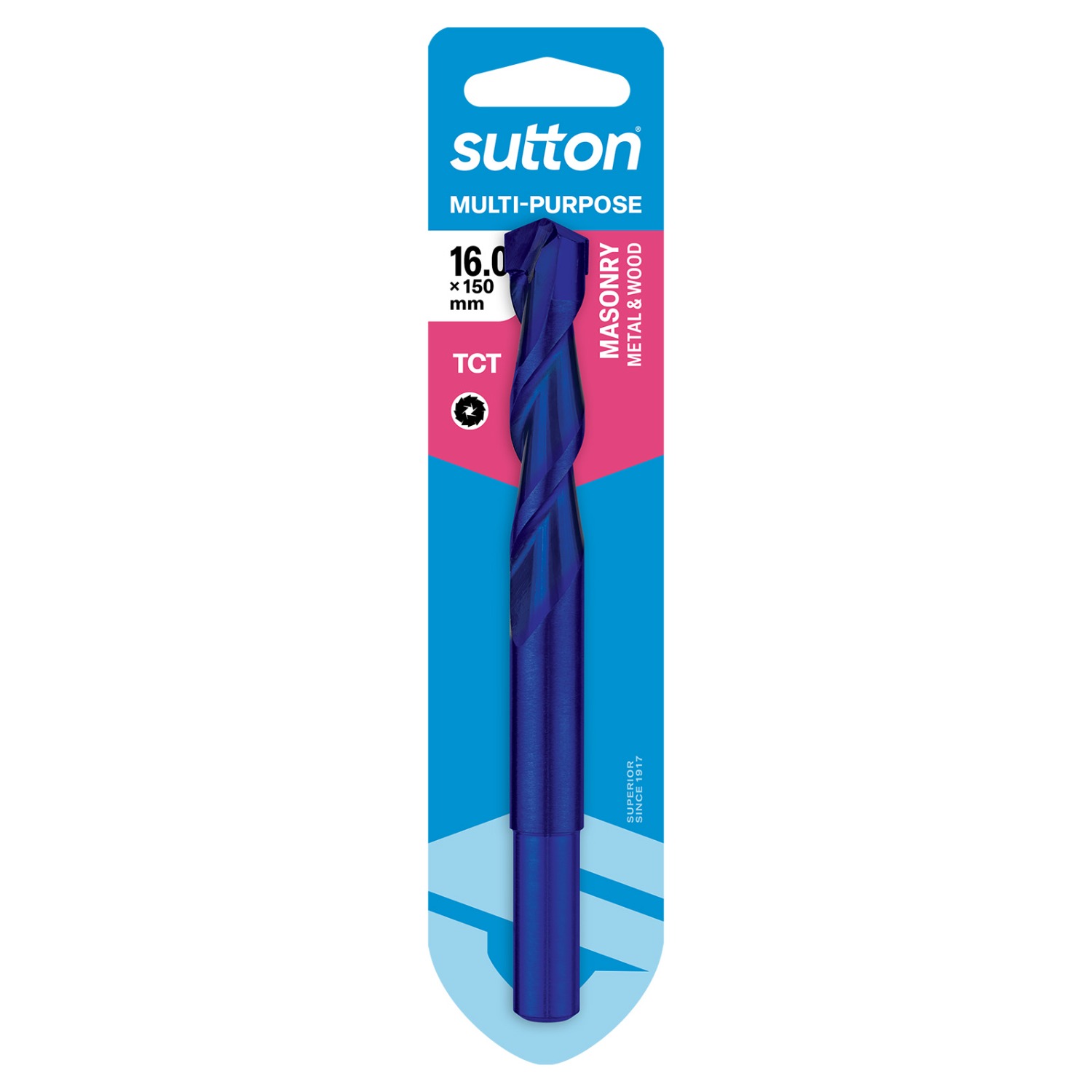 D6101600

Pack Qty: 1
Barcode: 9311963432861
Order Multiple: 1
Carbide percussion tip with semi positive profile for aggressive drilling in hard materials
Unique brazing process ensures a perfect bond between tip & body
The L-profile flute design efficiently extracts concrete, metal & wood particles
Parallel shank for rotary or hammer drill applications
Tungsten Carbide cutting edges for high wear resistance
Wood
Metal
Specialty
Masonry

| | |
| --- | --- |
| Soft Wood | |
| Hard Wood | |
| Wood & Nails | |
| Chipboard | |
| Plywood | |
| MDF | |
| Green Wood | |
| Sandwich Construction | |
| Pallet | |
| Window Frame | |
| | |
| | |

| | |
| --- | --- |
| Steel | |
| Hard Steel | |
| Stainless Steel | |
| Aluminium | |
| Copper / Brass | |
| Cast Iron | |
| Sheet Metal | |
| Precious Metals | |
| Metal Pipe | |
| | |
| | |
| | |

| | |
| --- | --- |
| PVC Plastic | |
| Acrylic | |
| mineral rock wool foams (EPS, PUR), Polystyre | |
| Leather | |
| Rubber | |
| Fibreglass | |
| Carbon Fibre | |
| Glass | |
| Laminate | |
| | |
| | |
| | |

| | |
| --- | --- |
| Masonry | |
| Plasterboard | |
| Compressed Fibre Cement | |
| Cement Sheet | |
| Ceramic Tile | |
| Hebel | |
| Brick | |
| Concrete | |
| Reinforced Concrete | |
| Stone | |
| Granite | |
| Marble | |
KEY