Trade/DIY
>
Specialty
>
Reciprocating Blades
Specialty Reciprocating Blades – Masonry – Ultra
H533
Sutton Tools Ultra reciprocating saw blades are a high performance abrasive blade for cutting tough materials that resist chip forming. Carbide grit blades provide fast smooth cuts. Suitable for cutting cast iron, steel pipes, fibreglass, ceramics, cement sheet, hebel and brick (<175mm).
The Sutton Tools Pro-Series range are premium grade to withstand rigorous use for the most demanding jobs. The blades that professionals prefer to use.
Making blade selection easy: Sutton Tools colour coded system enables easy selection removing frustration when searching for the right tool for your application. Applications: wood (red), Metal (blue), masonry (orange) & specialty (aqua).
Item #
Length l1 (mm)
Blade Height
TPI
Blade Thickness
Cut Thickness
RRP
(inc GST)
Info
H53323000
230
19
230x19x1.05
1.05
< 175 mm
$38.95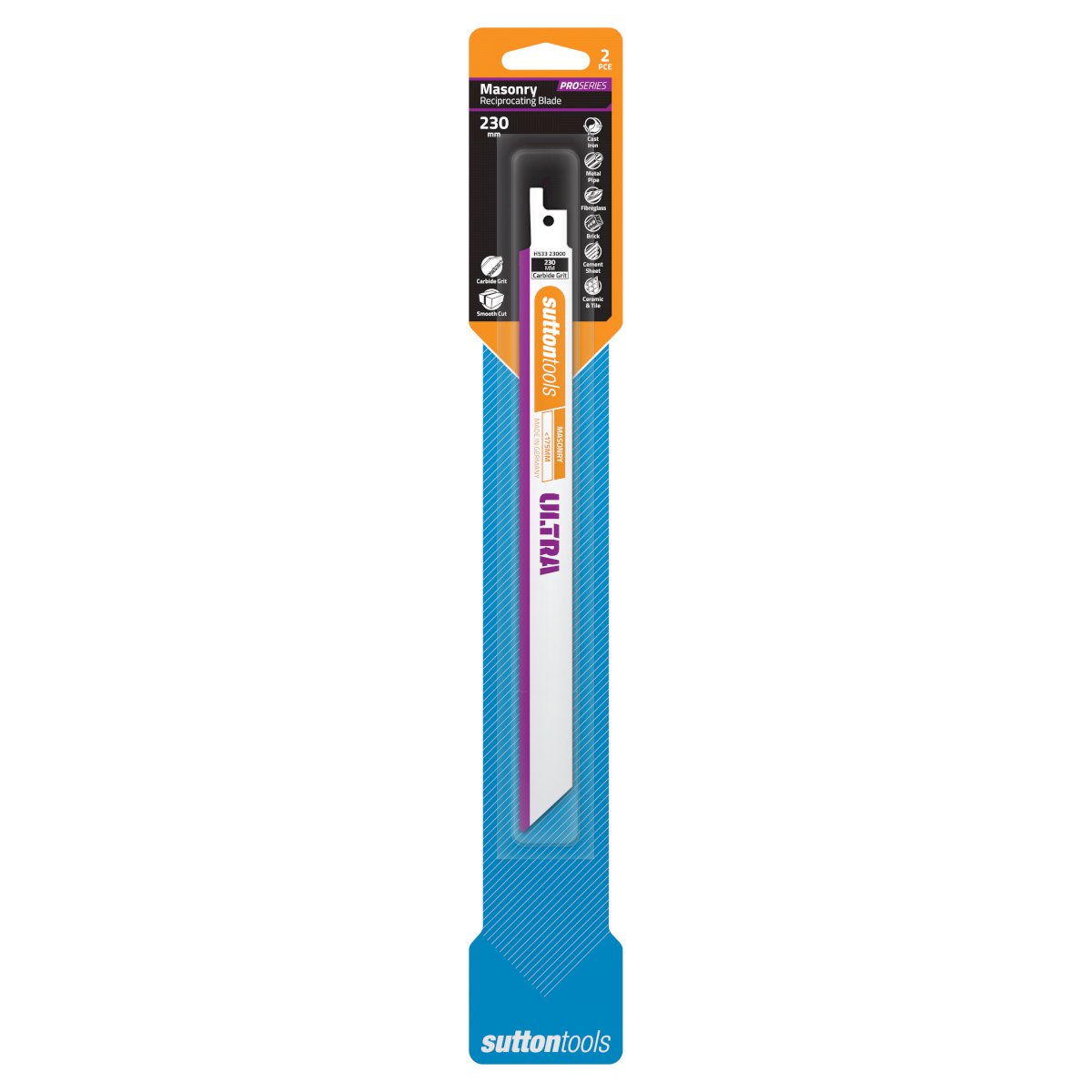 H53323000

Pack Qty: 2
Barcode: 9311963599366
Order Multiple: 1
Tungsten carbide grit cutting edge resists material binding
Abrasive blade with smooth cutting action
Made in Germany
Wood
Metal
Specialty
Masonry

| | |
| --- | --- |
| Soft Wood | |
| Hard Wood | |
| Wood & Nails | |
| Chipboard | |
| Plywood | |
| MDF | |
| Green Wood | |
| Sandwich Construction | |
| Pallet | |
| Window Frame | |
| | |
| | |

| | |
| --- | --- |
| Steel | |
| Hard Steel | |
| Stainless Steel | |
| Aluminium | |
| Copper / Brass | |
| Cast Iron | |
| Sheet Metal | |
| Precious Metals | |
| Metal Pipe | |
| | |
| | |
| | |

| | |
| --- | --- |
| PVC Plastic | |
| Acrylic | |
| mineral rock wool foams (EPS, PUR), Polystyre | |
| Leather | |
| Rubber | |
| Fibreglass | |
| Carbon Fibre | |
| Glass | |
| Laminate | |
| | |
| | |
| | |

| | |
| --- | --- |
| Masonry | |
| Plasterboard | |
| Compressed Fibre Cement | |
| Cement Sheet | |
| Ceramic Tile | |
| Hebel | |
| Brick | |
| Concrete | |
| Reinforced Concrete | |
| Stone | |
| Granite | |
| Marble | |
KEY