Trade/DIY
>
Specialty
>
Reciprocating Blades
Specialty Reciprocating Blades – Stainless Steel – Ultra
H531
Sutton Tools Ultra reciprocating saw blades are a Tungsten Carbide Tipped (TCT) blade for specialised applications. Suitable for cutting stainless steel, steel, acrylic, fibreglass and carbon fibre (2.0–4.0mm).
The Sutton Tools Pro-Series range are premium grade to withstand rigorous use for the most demanding jobs. The blades that professionals prefer to use.
Making blade selection easy: Sutton Tools colour coded system enables easy selection removing frustration when searching for the right tool for your application. Applications: wood (red), Metal (blue), masonry (orange) & specialty (aqua).
Item #
Length l1 (mm)
Blade Height
TPI
Blade Thickness
Cut Thickness
RRP
(inc GST)
Info
H53111518
115
19
18 TPI
1.25
2-4 mm
$61.00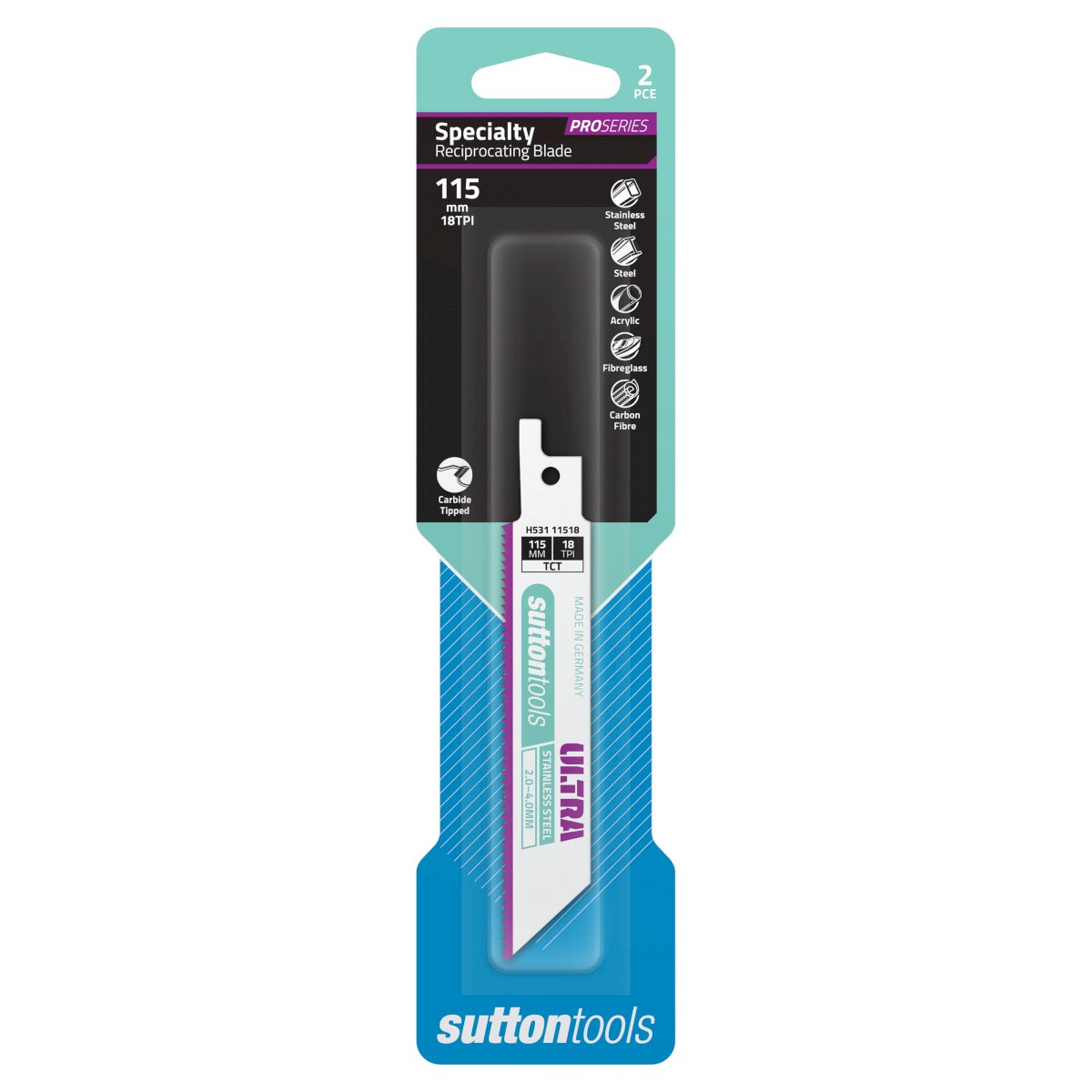 H53111518

Pack Qty: 2
Barcode: 9311963599359
Order Multiple: 1
Tungsten carbide strip with ground straight taper set teeth for high wear resistance when cutting tough, abrasive materials
Ground to a sharper edge for excellent wear resistance
Made in Germany
Wood
Metal
Specialty
Masonry

| | |
| --- | --- |
| Soft Wood | |
| Hard Wood | |
| Wood & Nails | |
| Chipboard | |
| Plywood | |
| MDF | |
| Green Wood | |
| Sandwich Construction | |
| Pallet | |
| Window Frame | |
| | |
| | |

| | |
| --- | --- |
| Steel | |
| Hard Steel | |
| Stainless Steel | |
| Aluminium | |
| Copper / Brass | |
| Cast Iron | |
| Sheet Metal | |
| Precious Metals | |
| Metal Pipe | |
| | |
| | |
| | |

| | |
| --- | --- |
| PVC Plastic | |
| Acrylic | |
| mineral rock wool foams (EPS, PUR), Polystyre | |
| Leather | |
| Rubber | |
| Fibreglass | |
| Carbon Fibre | |
| Glass | |
| Laminate | |
| | |
| | |
| | |

| | |
| --- | --- |
| Masonry | |
| Plasterboard | |
| Compressed Fibre Cement | |
| Cement Sheet | |
| Ceramic Tile | |
| Hebel | |
| Brick | |
| Concrete | |
| Reinforced Concrete | |
| Stone | |
| Granite | |
| Marble | |
KEY